Have you ever wondered how those bright dancing lights are created? They are actually collisions between electrically charged particles from the sun that enter the earth's atmosphere. In the northern hemisphere, they are called Aurora borealis; in the southern half, Aurora australis.
The colours can appear as green or pink, but have also appeared as shades of red, yellow, green, blue and violet. They can look like patches in the sky, scattered clouds, light streamers, arcs and rippling curtains. But I'm sure we can all agree, that no matter what colour they are and what they look like, they will always be a magical sight.
Due to Indigeno Travel's location, our experts have chosen the top 5 places in the northern hemisphere to see these wondrous lights
1.Churchill, Manitoba: This northern town is located on t he shores of Hudson Bay and is world-renowned for its abundance of polar bears in the fall and beluga whales in the summer.. But in the winter it offers one of the best northern lights viewing opportunities in the world. Having booked tours to Churchill for over 40 years, our company is well acquainted with all that is available here. Contact Us to plan a Tundra Buggy Lodge Enthusiast or another tour to this unique destination.
2. Whitehorse, Yukon Territory: Our Yukon Aurora Getaway is a great opportunity to discover the magic of the northern lights. Take time to truly get away from your normal routine by slowing down and connecting with nature. A variety of activities gives guests plenty of options for adventure.
3. Iceland: Depending on whether you want a guided tour or to explore the are on your own, Iceland has a plethora of quality northern lights viewing locations. Iceland's Auroras, Volcanoes, and Glacier Lagoon combines viewing of some of the country's many natural wonders with searches for the spectacular Auroras.
4. Norway: Watch the northern lights as they reflect off the water on a Norwegian Northern Lights Voyage. Sail along Norway's coastline and enjoy the spectacular scenery by day, and then at night gather on the deck to search the sky for the dancing lights.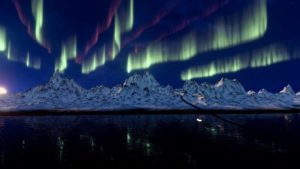 5. From the comfort of your own home: If you don't have time or the means to get to the other places, explore.org has a live webcam focused on the sky in Churchill. Check out the snapshot gallery if you're tuning in during the day, but keep an eye out at night to see if you can spot these fascinating lights.
While these aren't the only places you can go to see the Aurora, and are certainly not all the ones we can book for you, they are some of the best. Contact us so we can help you book a trip to see the dancing lights!