Indigeno Travel presents a bold, socially responsible opportunity for Indigenous and non-Indigenous Canadians to come together in the spirit of Reconciliation.
We invite you to join us in this historic opportunity to participate in the growth of an exciting Indigenous-owned travel and tourism company that is bringing employment opportunities to Indigenous people, developing our travel and tourism industry and reversing economic leakage.
As a full-service travel and tourism agency, Indigeno offers both leisure and business travel services to Indigenous and non-Indigenous clients. We excel as a provider of exciting and authentic Indigenous tourism experiences to travellers worldwide and business travel services to government and businesses.
THIS IS A STORY
ABOUT A
LEGACY.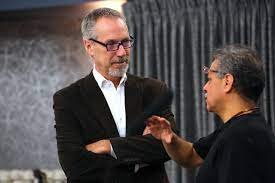 A story thirty years in the making. A story of two old friends with a new idea.
They dreamed of a way for all Canadians to take part in Reconciliation simply by doing what they already love to do – travel. They asked themselves: "What if we could tap into the existing demand for travel and tourism in a way that could benefit Indigenous communities across the country? How many meaningful careers could we create for Indigenous people in the process?"
So they decided to start something unique. Something that was never done before.
In 2015, Indigeno Travel was born. The brainchild of Darrell Phillips, aka Little Black Bear, a master facilitator, community organizer and consultant to Indigenous communities from Hollow Water First Nation, and Chris Maxfield, who had devoted over two decades, providing pensions and benefits to First Nations communities, Indigeno Travel began as a passion project. Today it is poised to become Canada's uniquely Indigenous-owned national travel agency.
In 2017, as Darrell faced death from a terminal illness, Chris pledged he would, with Darrell's wife Charlene, continue the work they had begun so many years before.
OUR PURPOSE:
To create meaningful, full-time employment opportunities and career paths for Indigenous people
To build capacity in the Indigenous community by developing a pool of HR potential for Indigeno Travel and other worthy employers
To infuse millions of employment dollars into Indigenous households every year
To reverse economic leakage from Indigenous communities due to the procurement of travel services from outside agencies
To present governments, institutions and corporations with an opportunity to demonstrate their commitment to the Truth and Reconciliation Commission's Call to Action 92 (for Reconciliation through business) by becoming clients of Indigeno Travel and thereby supporting our mission of Indigenous economic empowerment
To provide meaningful financial support to Indigenous people and communities for personal healing, literacy, education, business development, athletics and musical achievement