ILULISSAT IMAGE OF ICE
Icebergs fill the fjord right outside the town and can be experienced at close range on a midnight cruise or during a full day excursion to the impressive Eqi glacier. Sail to small and remote settlements, where "the old world" Greenlandic tradition lives on.
TRIP HIGHLIGHTS
Three full days in Ilulissat, Iceberg Capital of Greenland
Boat tour amongst the icebergs to Eqi Glacier, a UNESCO World Heritage Site
Marvel at the enormous icebergs floating in Disko Bay
Go hiking along the fjords and look down on the iceberg-filled fingers of water
Add on a flight or helicopter trip over the Ice Cap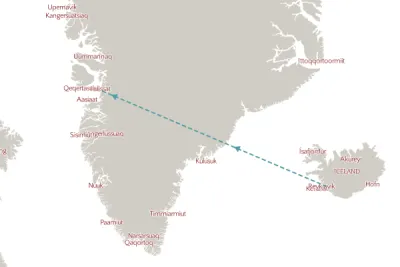 AT A GLANCE
ITINERARY DETAIL
DAY 1: START YOUR GREENLAND JOURNEY
---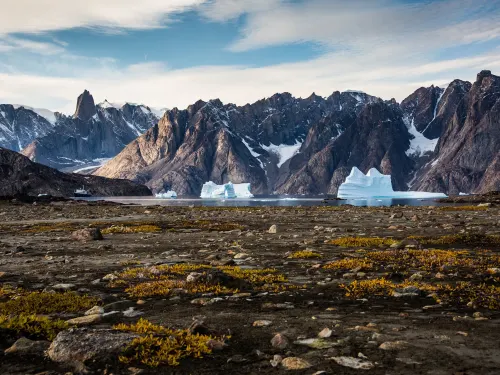 Transfer from Keflavik airport to the downtown Reykjavik airport for your flight to Ilulissat in West Greenland. Transfer to Hotel Arctic and check-in for a four-night stay. Join your destination guide for an information meeting about the area followed by a walking tour of the town. Welcome dinner this evening.
Depending on your arrival time to Keflavik, accommodation in Iceland may be required pre-tour, which we can add on to your program. Want more time in Iceland? We can arrange that for you, too!
Daily Summary
Transportation: Fly to Ilulissat, Greenland
DAYS 2 – 3: CHOOSE YOUR OWN ILULISSAT ADVENTURE
---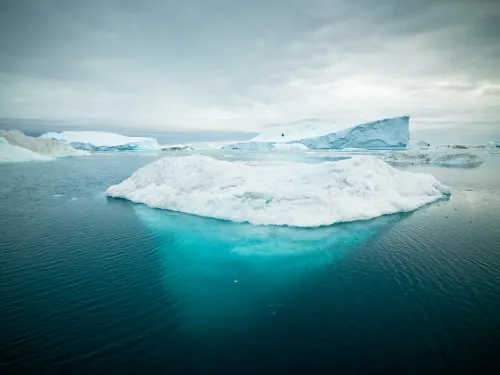 Ilulissat at leisure
Three full days in Ilulissat allow plenty of time for optional excursions, including boat cruises among the icebergs and to the glacier and a helicopter tour to the Ice Cap. Active options include fishing, whale watching, and moderate to demanding hikes. Don't miss a boat tour to the Eqi Glacier and experience the sights and sounds of an active, calving glacier at close range.
Daily Summary
Tour: Ilulissat at leisure
DAY 4: FREE DAY TO EXPLORE ILULISSAT
---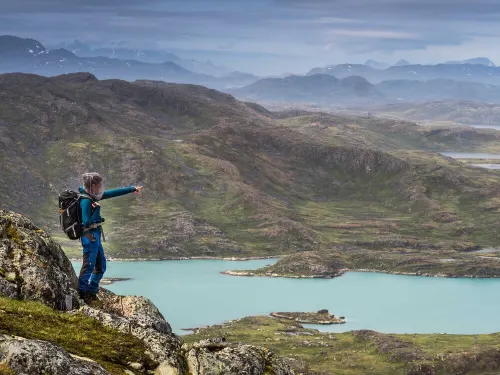 Ilulissat Farewell Dinner
This morning and afternoon are free to do more touring or just relax and explore the town. This evening features a farewell group dinner at your hotel.
Daily Summary
Tour: Ilulissat Farewell Dinner
DAY 5: SAY GOODBYE TO ILULISSAT
---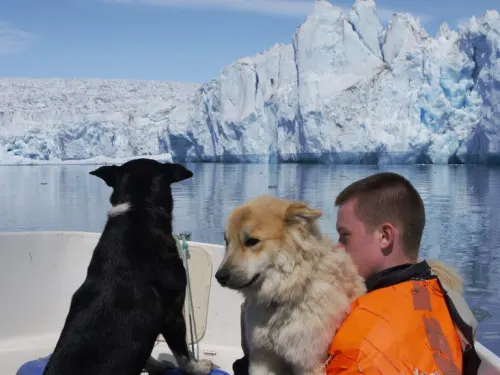 A transfer is provided to the airport for your return flight to Reykjavik. You may transfer to Keflavik Airport for your onward flight or your return flight home or extend your itinerary to include some time in Iceland.
Depending on your departure time from Keflavik, accommodation in Iceland may be required post-tour. We are happy to quote you on the extra nights of accommodation that are needed and touring in Iceland, if you wish to add on some time.
Daily Summary
Transportation: Fly to Reykjavik
TRIP DETAILS
2021 Departures:
Summer: Tuesdays – Saturdays: June 01-September 14
(subject to change depending on flight schedules)Call us to confirm dates and pricing

Optional dinner plan at Hotel Arctic: from US$170 per person
Prices are "starting from" rates, quoted per person in US$, based on two people sharing a twin room or one person in a single room. Prices are subject to change based on currency fluctuations, additional taxes or charges assessed by the tour operators or governments of Iceland and Greenland. CA$ pricing is also available, please inquire.
This tour is also available as a 4 day/3 night program in both winter and summer seasons. Winter: Saturdays February 22-April 14 / Summer: Saturday June 20-September 19. Please ask us for the pricing on either of the shorter programs. Disclaimer: We do our utmost to ensure that information posted on our website is correct at the time of publication, however trip details are subject to change without notice by the suppliers and operators involved. We update the information as soon as possible when changes are advised to us, however, we cannot assume responsibility for such changes made by the suppliers and operators.