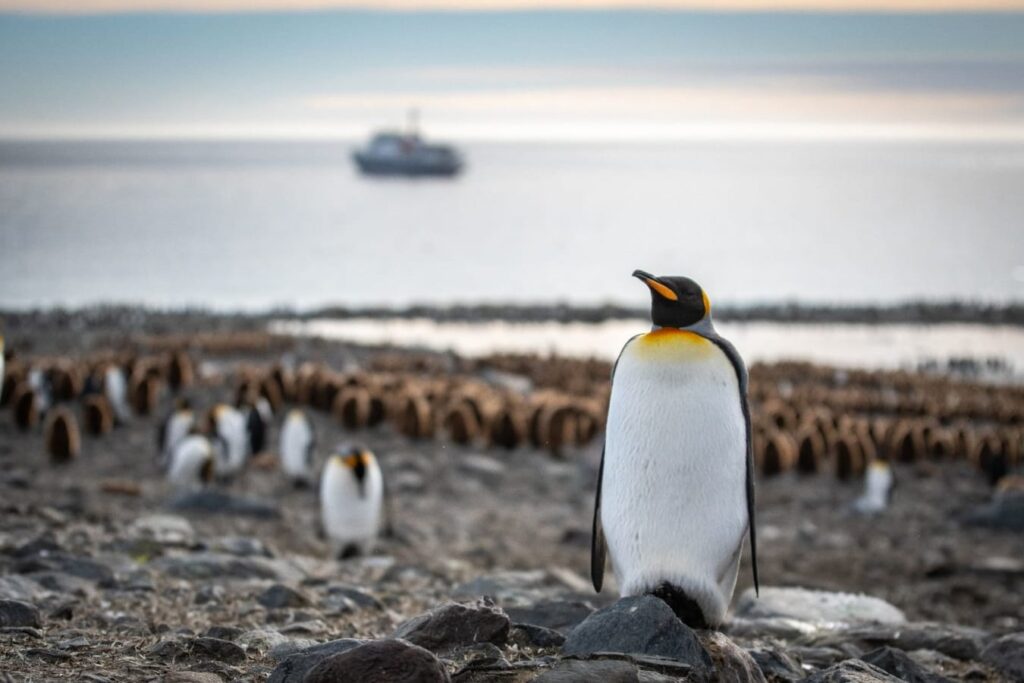 EPIC ANTARCTICA: CROSSING THE CIRCLE VIA FALKLANDS AND SOUTH GEORGIA
Embark on a once-in-a-lifetime adventure on this diverse expedition — you'll experience the spectacular flora and fauna of the Falkland Islands (Islas Malvinas) before immersing yourself in the unique history and exquisite, rare wildlife of South Georgia. Whether you're visiting Antarctic research stations, witnessing a sudden minke whale breach from your Zodiac, sharing a magical moment with king penguins, or celebrating crossing the Antarctic Circle with like-minded travellers and crew, you'll know this experience will live on in you forever.
TRIP HIGHLIGHTS
Explore the world's seventh continent on the Antarctic Peninsula by ship, Zodiac and on foot
Learn about Antarctica's unique geology, history and wildlife with an expert team of lecturers
See the incredible wildlife of South Georgia, often referred to as "the Galapagos of the South." This includes more than 30 species of breeding birds, including four species of penguin
Follow in the footsteps of Sir Ernest Shackleton's perilous voyage on South Georgia and pause for a moment at his graveside
Explore the quaint, British town of Port Stanley in the Falkland Islands
Crossing of the Antarctic Circle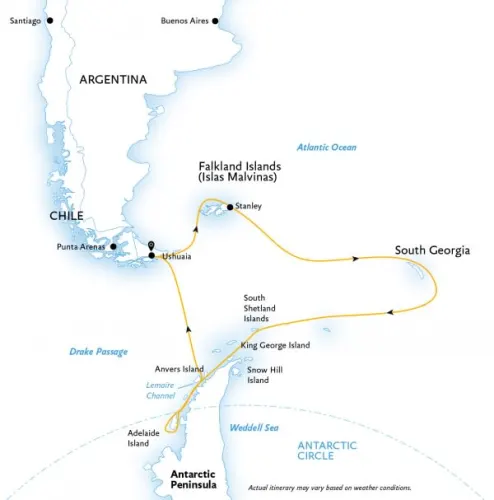 AT A GLANCE
ITINERARY DETAIL
DAY 1: USHUAIA, ARGENTINA
---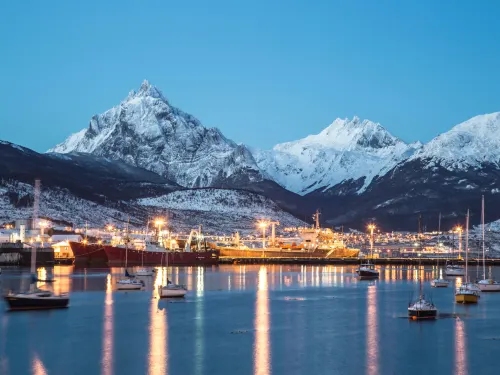 Ushuaia, Argentina
You will begin your journey in Ushuaia, a small but bustling port town at the tip of South America. This Argentine town is an ideal gateway for you to explore the southern extent of Patagonia while preparing for your adventure ahead. Get active in the mountains or enjoy handcrafted chocolate at a café in town.
Daily Summary
Tour: Ushuaia, Argentina
DAY 2: EMBARKATION DAY
---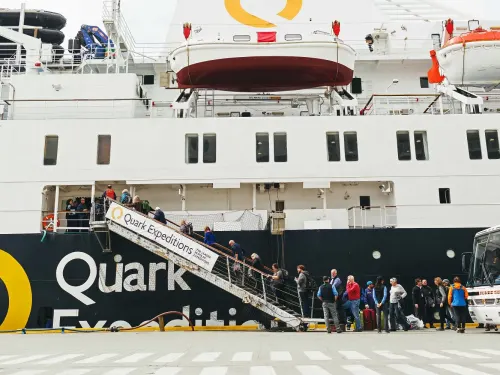 Embarkation Day
As the ship sets sail in the late afternoon, you will begin your Antarctic journey, passing through the Beagle Channel. Named after the famed ship on which Charles Darwin voyaged, the channel presents great photo opportunities to capture seabirds hovering overhead.
Daily Summary
Tour: Embarkation Day:
Accommodation: Ocean Diamond
DAY 3: AT SEA
---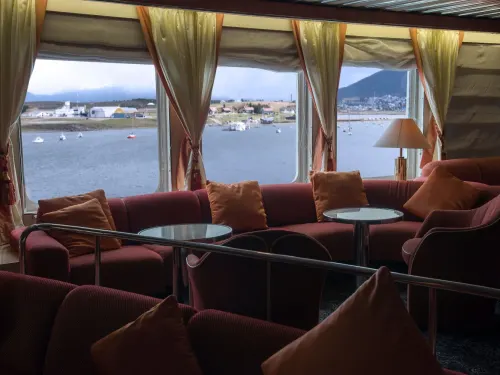 At Sea
There are many activities to keep you engaged while we're at sea. You can take advantage of the library of books available on your ship, chat with your shipmates at the bar, or spend time out on deck, admiring the sea. Your Expedition Team will also conduct a series of presentations to familiarize yourself with how to prepare for Zodiac cruises and shore landings.
Daily Summary
Tour: At Sea
Accommodation: Ocean Diamond
DAYS 4 – 5: FALKLAND ISLANDS (ISLAS MALVINAS)
---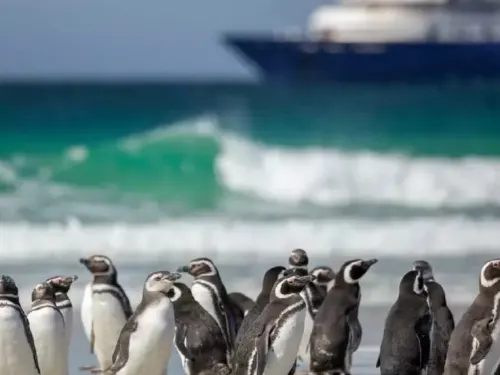 Falkland Islands (Islas Malvinas)
The Falkland archipelago contains two main islands, East Falkland and West Falkland, which you will explore thanks to Zodiac excursions and daily landings. These rugged islands have a frontier feel to them. This is especially true of the largest settlement, Stanley, an interesting British outpost–type place, where you could just as easily wander into a pub as you could a church or museum.


Daily Summary
Tour: Falkland Islands (Islas Malvinas)
Accommodation: Ocean Diamond
Have your camera handy, as your wildlife sightings in the Falklands (Malvinas) should include at least three species of penguins, plus two endemic bird species—Cobb's wren and the Falkland's flightless steamer duck.
Your team of lecturers and specialists will be sure to educate you on the local flora and fauna so that you have the
DAYS 6 – 7: AT SEA
---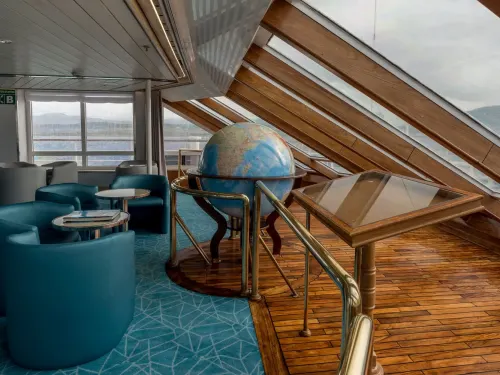 At Sea
En route to South Georgia, you'll cross the Antarctic Convergence, an invisible biological boundary unique to Antarctica. This meeting of oceans is what creates the abundance of krill and marine life that attracts large cetaceans, such as humpback whales, to the area.
Daily Summary
Tour: At Sea
Accommodation: Ocean Diamond
DAY 8: SOUTH GEORGIA
---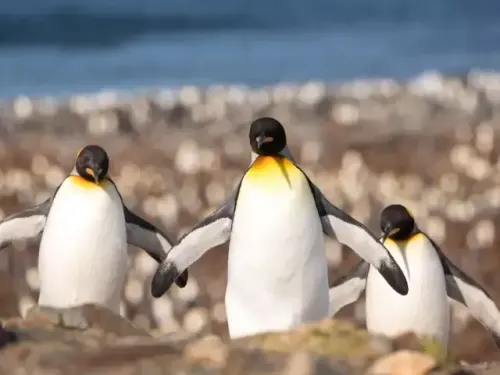 South Georgia
Evidence of the old whaling and sealing heyday is still found throughout the island. You'll be surprised to learn that whale and seal populations were once decimated here. Today, their populations are strong, with massive rookeries to be seen.

One significant and historic site that will be of interest is the grave of the great explorer Sir Ernest Shackleton.
Daily Summary
Tour: South Georgia
Accommodation: Ocean Diamond
Since its establishment as a reserve in 1987, Miawpukek's employment rate has increased from 10% to nearly 100% and Indian and Northern Affairs often references the community as a model for other First Nations. With the help of community leaders, we will receive a formal welcome into Miawpukek and meet the locals.
Your visit to his gravesite at the Grytviken settlement, also home to an old whaling station and a research station, is a day for reflecting on what it must have been like to be one of the first explorers of this unforgiving yet beautiful environment.
Although South Georgia's history is an important attraction to the island, it is the wildlife that you and your shipmates will likely find most captivating. Often referred to as the Galapagos of the Poles, South Georgia contains an exceptional quantity of wildlife. Each landing you make on the island will open your eyes to a new wonder: one day you may see rookeries with hundreds of thousands of pairs of king penguins waddling on a beach; the next day you may visit another beach dotted with thousands of fur or elephant seals.
The grasses, mountains and beaches of South Georgia all play an important role in the breeding and survival of different bird and animal species. Your Expedition Team will be happy to share its knowledge of how these vulnerable relationships all play out on the island.
AYS 9 – 10: AT SEA
---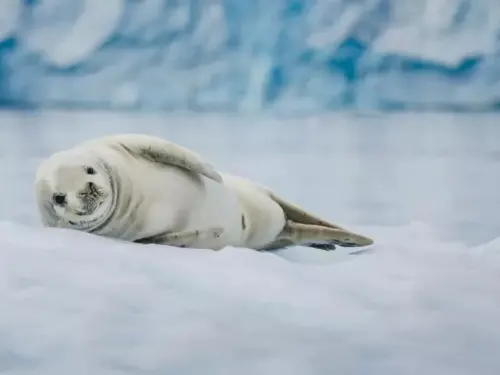 At Sea
The First Nations community of Miawpukek has a mandate for economic self-sufficiency, guided by traditional values. It became a permanent settlement sometime around 1822. Before then, it was one of many semi-permanent camping sites used by the Mi'kmaw people—who, at the time, travelled throughout the east coast.
Daily Summary
Tour: At Sea
Accommodation: Ocean Diamond
DAY 11: SOUTH SHETLAND ISLANDS AND ANTARCTIC PENINSULA
---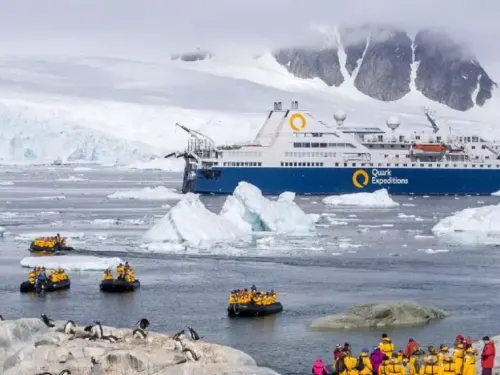 South Shetland Islands and Antarctic Peninsula
The experience is hard to put into words, but the most common reaction upon reaching the White Continent is a sense of reverence and awe. The experience is hard to put into words.
Daily Summary
Tour: South Shetland Islands and Antarctic Peninsula
Accommodation: Ocean Diamond
You will discover that Antarctica is a land of extremes: at one moment you'll be overcome with a feeling of complete silence and loneliness, and the next moment you'll be laughing at the comical antics of a curious penguin.
Glacier hikes, visits to research bases and, of course, communing with seals and penguins are sure to keep you smiling every day. Perhaps you'll catch sight of the fearless penguin eater, the leopard seal, or maybe you'll come eye to eye with a curious minke whale while you are cruising in a Zodiac. Each day and each landing will present a new collection of creatures to entertain you and keep your camera busy.
If you find yourself wanting more, then perhaps you'll treat yourself by booking our kayaking Adventure Option (reserve in advance when booking your trip); if you're feeling a bit overwhelmed, a little shock therapy courtesy of a Polar Plunge might be what you need!
DAYS 12 – 13: ANTARCTIC CIRCLE
---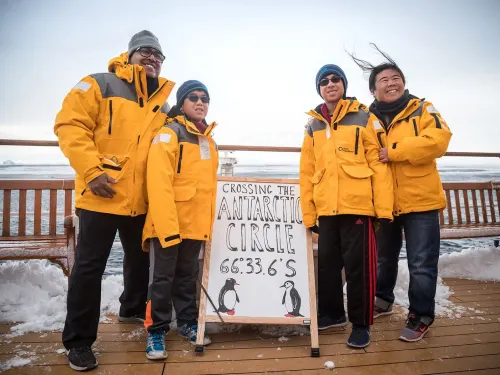 Antarctic Circle
Crossing the Antarctic Circle is an impressive achievement, as most expeditions to the Antarctic Peninsula do not come close to reaching this far south.
If conditions allow us to cross this famed line, we'll toast the first explorers who ventured here, and you can raise a glass of champagne and take pride in knowing you've made it to a part of the world visited by very few people. This is raw Antarctica, home of the midnight sun, where there is the potential for fantastic iceberg sightings.
Daily Summary
Tour: Antarctic Circle
Accommodation: Ocean Diamond
DAYS 14 – 15: NORTHBOUND ALONG THE PENINSULA
---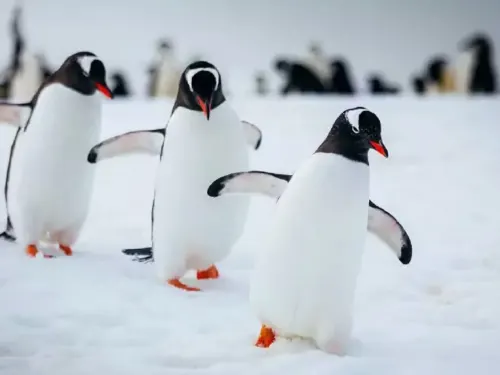 Northbound Along the Peninsula
If you haven't had your fill of Antarctic wildlife and icebergs by now, you'll surely be satisfied by the time you return to the Drake Passage. You will continue to journey onto land by Zodiac twice daily as you travel north along the western Antarctic Peninsula.

Your Expedition Team will always be on the lookout for species of penguins, seals and whales that may have eluded you on your journey south.
Daily Summary
Tour: Northbound Along the Peninsula
Accommodation: Ocean Diamond
DAYS 16 – 17: CROSSING THE DRAKE PASSAGE
---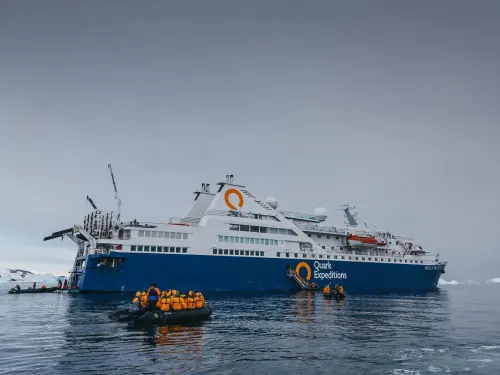 Crossing the Drake Passage
After more than a dozen days of memorable wildlife encounters, your journey home begins. Crossing the Drake is your unofficial rite of passage, putting a final stamp of approval on your Antarctic adventure.
Daily Summary
Tour: Crossing the Drake Passage
Accommodation: Ocean Diamond
DAY 18: DISEMBARK IN USHUAIA
---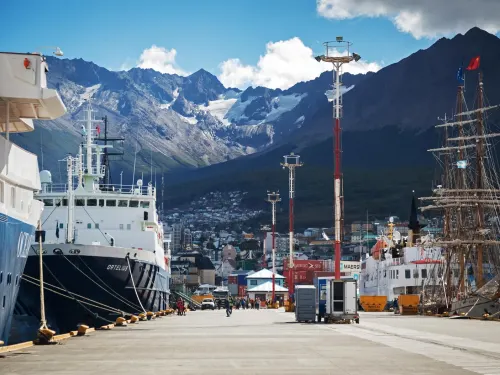 Disembark in Ushuaia
Today you'll say goodbye to your Expedition Team and fellow travellers, disembarking in the morning to catch your homeward flights.
Daily Summary
Tour: Disembark in Ushuaia
DAY 19: PROGRAM OPTIONS
---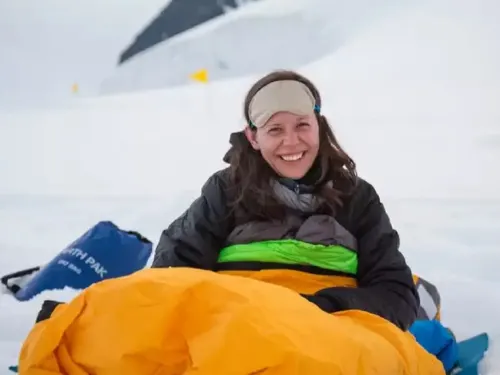 Program options
Optional Activities During Your Cruise:
Add an extra rush of adrenaline to your expedition by choosing from a wide range of optional adventure activities to experience the 7th Continent in a more personal way.
Daily Summary
Tour: Program options (x 2)
Some of the available options are Camping on the Antarctic continent, Cross-Country Skiing, Kayaking, Mountaineering and Stand-Up Paddle-boarding. Ask us for details and prices for the available options on your cruise date.
Pre/Post Cruise Options:
This expedition cruise also offers the option of departing from/returning to Buenos Aires. A Buenos Aires transfer package is offered and will be quoted as an add-on to your cruise program. It includes:
One night's hotel accommodation in Buenos Aires, with breakfast
Group transfer from the hotel to the airport in Buenos Aires
Charter flight from the Buenos Aires international airport to Ushuaia, and return
Group transfer from the Ushuaia airport to the ship, and return
Combined airport transfer and express bus tour of Tierra del Fuego National Park after disembarkation
Pre and Post-Trip Options: Getting to the Antarctic can be just as much fun as being there. There are multiple travel options you can add to your cruising adventure. Some suggestions are Introduction to Buenos Aires; Santiago Head Start; Easter Island – World's Most Remote Inhabited Island and Experience Igazu Falls. Programs may be combined if schedules allow.
ACCOMMODATION
OCEAN DIAMOND
The Ocean Diamond is a modern, stable super-yacht, and one of the largest of our small expedition ships. Carrying a maximum of 189 passengers, and with two stabilizers and an ice-strengthened hull, this outstanding vessel is ideal for polar expeditions. As one of the fastest ships in Antarctica, it is also one of the most comfortable. There are 101 elegantly designed cabins and suites, all with exterior views, and expansive common spaces, a club lounge, and a spacious restaurant. The ship offers numerous adventure options, plus on-board features such as interactions with photography instructors. After a full day of exploration, passengers can relax, browse books or DVDs in the well-stocked polar library, or enjoy stunning polar scenery from the sun-lit, panoramic observation lounge.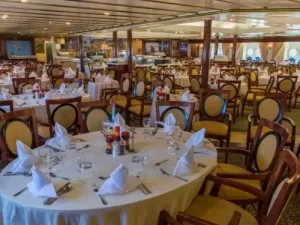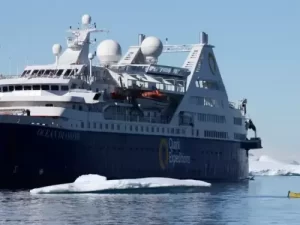 TRIP DETAILS
2021 Dates:
December: 18
2021 Prices:
From US$16,495 – triple
Prices are the "starting from" rates of the least expensive cabin, shown in US$, per person based on three people sharing a triple cabin. There are several twin and single cabin categories including suites. At the time of your inquiry we will check the availability of cabins and current prices, including any sales or promotions that may be in effect, and quote you based on your personalized program.
Not sure what to pack? Watch this video on Packing for the Polar Regions to get an idea! Important reminder: Embracing the unexpected is part of the legacy – and excitement – of expedition travel. There are no guarantees that we can achieve everything we set out to accomplish. A measure of flexibility is something all of us must bring to a voyage. There are nearly 200 recognized sites in the Antarctic Peninsula and South Shetlands and the places mentioned above may be changed to others equally as interesting.
Disclaimer: We do our utmost to ensure that information posted on our website is correct at the time of publication, however trip details are subject to change without notice by the suppliers and operators involved. We update the information as soon as possible when changes are advised to us, however, we cannot assume responsibility for such changes made by the suppliers and operators.