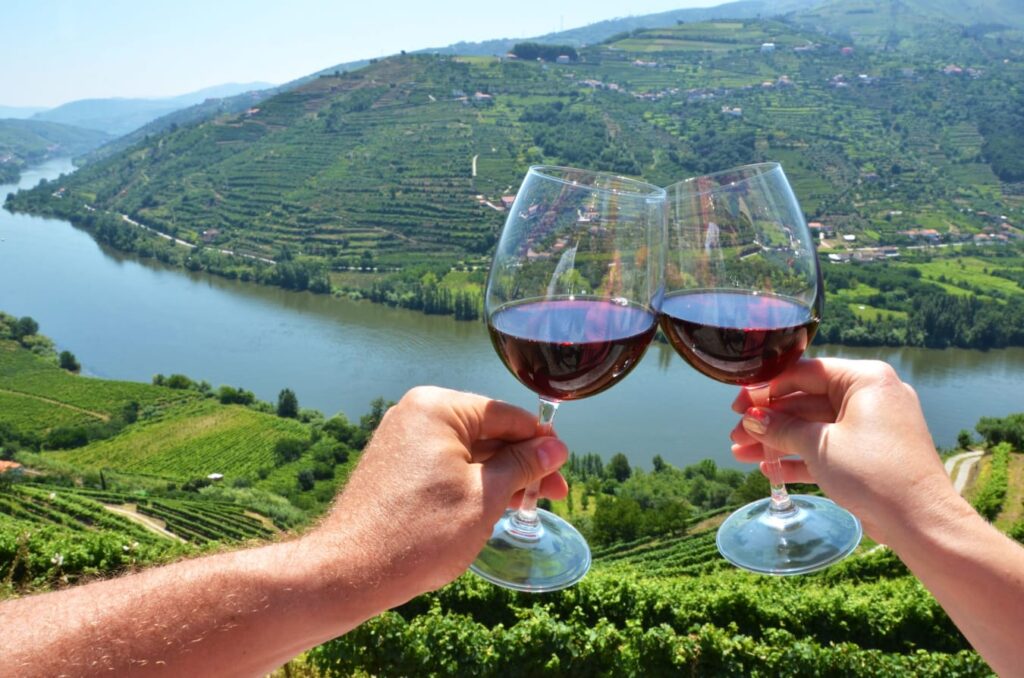 CYCLE THROUGH PORTUGAL'S DOURO WINE REGION
This cycling holiday in the Douro Valley of Portugal will acquaint you with fascinating and magical surroundings, delicious cuisine and some of the world's finest wines (including Port Wine, for which the region is famous). Enjoy unique accommodation along the way, including delightful rural homes. Self-guided tour with support of an on-call representative.
TRIP HIGHLIGHTS
This holiday is self-guided, for those who like to cycle independently but with a backup. Activity level is considered moderate. The average daily ride is 41 km (25 miles) on terrain that is undulating. The route is 85% paved roads. The minimum suggested age to participate is 14 years. A company representative will meet you and is available throughout the trip. A GPS device loaded with the tracks is provided to participants.
World-class wines of the Douro Valley
Guided visit and wine tasting (3 wines) at Quita do Tedo
Delicious cuisine, prepared with local and seasonal produce
Cycling terraced vineyards
Unique, handpicked accommodation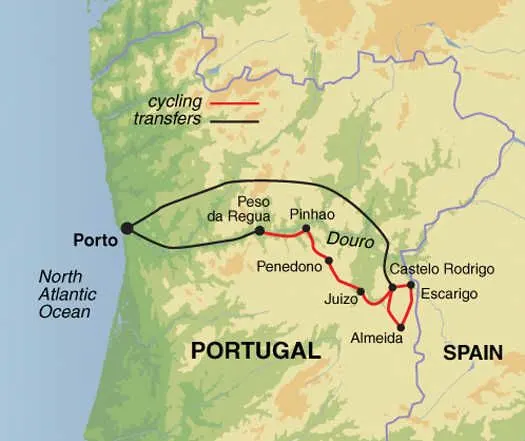 AT A GLANCE
ITINERARY DETAIL
DAY 1: ARRIVE PORTO – TRANSFER TO CASTELO RODRIGO
---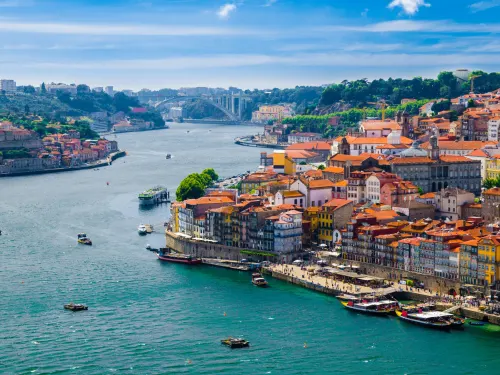 After arrival at Porto Airport you will join an included, shared transfer to the easternmost point of your holiday; Castelo Rodrigo.
Enjoy the beautiful landscape and scenery that unfolds along the way, entering the fascinating landscape of the Douro River Canyon and its 200 metre high cliffs.
Daily Summary
Transportation: Airport Transfer
The historical village of Castelo Rodrigo deserves an exploratory walk, with its cobbled streets, palace ruins, old walls and ogival arched gates, 16th-century pillory, and medieval church. Your hotel is located in Castelo Rodrigo with great views over the surrounding plains, mountains and all the way to the border with Spain.
DAY 2: CYCLE ACROSS HIGH PLAINS TO ALMEIDA AND ESCARIGO ON THE SPANISH BORDER
---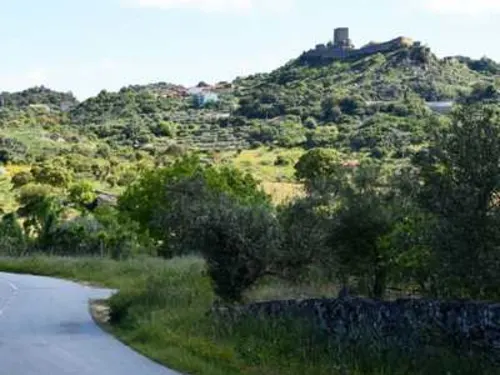 Almeida – Escarigo
The first day of cycling takes you across high plains to the historical village of Almeida, one of the most important strongholds in Portugal's history. Although it had been occupied by humans since the Palaeolithic era, it was only during the Arabic period that the name of the village came about – Al Meda meaning "the table".
Daily Summary
Self Guided: Almeida – Escarigo
Total Cycling Distance: 53 KM
Meals: B
There is an ancient tale that a sumptuous table embedded with precious stones once stood in this spot. However, Almeida's military importance was yet to come…taken and re-taken many times during battles between the Portuguese and the Castilians, in 1296 a new castle was built by the Portuguese, then in 1640 an enormous star-shaped fortress was built around the town to defend against Spanish and French attacks. Eventually falling to Napoleon's armies it was later used by the Portuguese as a political prison.
Also visit the village of Vilar Torpim, with it's chapel and manor house, and Escarigo, right on the Spanish border. Return to Castelo Rodrigo for your overnight
DAY 3: CYCLE TO ALDEIA DO JUÍZO ALONG BACKROADS WITH BEAUTIFUL LANDSCAPES
---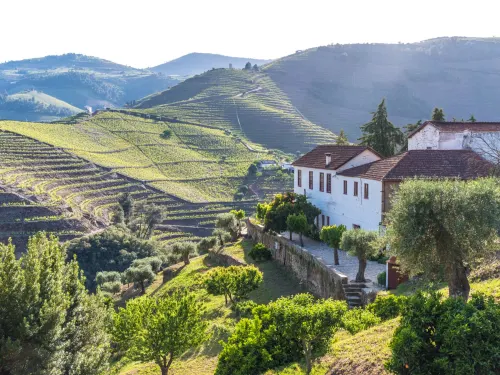 Aldeia do Juizo
At the beginning of the day, cycle around the Serra da Marofa mountain range. Experience stunning views over the Iberian Plateau and from the top you can also see the Douro river system (which, beyond this river, includes Côa and Águeda rivers), to the East. Continue on to Aldeia do Juizo, a rural village with 2 chapels, several wineries, and a community oven that is surrounded by vineyards, olive groves, and almond orchards. On the banks of the river, there are vegetable gardens, where the locals produce a wide variety of agricultural products. Stay in a delightful village house, part of a rural tourism complex of restored houses, all with private bathroom facilities.
Daily Summary
Self Guided: Aldeia do Juizo
Total Cycling Distance: 30 KM
Meals: B
DAY 4: CYCLE THROUGH THE HISTORICAL VILLAGES OF MARIALVA, MEDA AND ON TO PENEDONO
---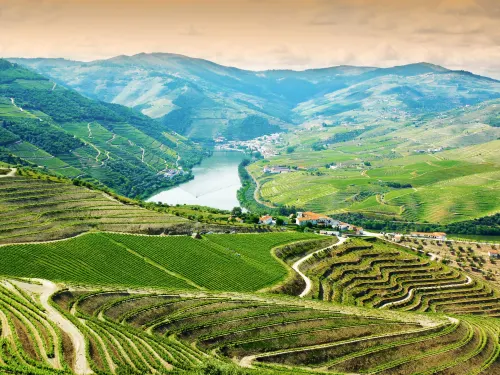 Arctic Circle
On the ride today you cycle through two historical villages, Marialva and Meda before your approach to Penedono, with views of its almost hexagon castle, perched on an outcrop. After the first 10 km you will be able to see the Castle of Marialva. When you reach the village, explore the streets, lined with buildings that have stood the test of time and which lead to the citadel surrounded by ancient walls. The next highlight is Meda – in medieval times this village was essentially a border town and the setting for hard-fought skirmishes between Christians and Muslims.
Daily Summary
Self Guided: Marialva – Meda – Penedono
Total Cycling Distance: 39 KM
Meals: B
The watchtower was one of the most important strategic defence points in the region and combined with the castles of Marialva and Longroiva. Today the village is quiet and the main activity is farming and wine-making. Continue on to Penedono and its medieval castle, a unique example of military architecture that dominates the surrounding countryside.
DAY 5: RIDE TO THE UNESCO WORLD HERITAGE LISTED VINEYARDS OF THE DOURO VALLEY
---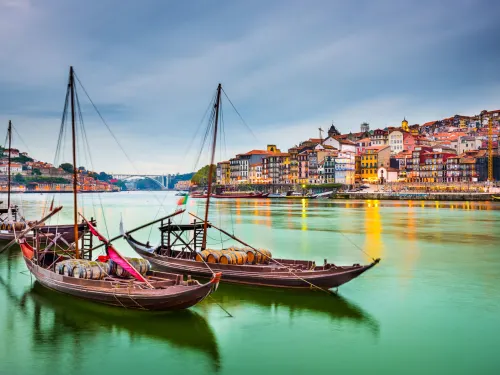 Douro Valley – UNESCO World Heritage vineyards
The Alto Douro winemaking region is most famous for its Port wine, but the region also produces world-famous wines from the Touriga grape. The terraced vineyards are so typical of the region that they are listed as a UNESCO World Heritage site and are a delight to behold. The neatly-kept wine estates rise proudly amidst the vineyards, their names clearly visible to everyone who passes.
Daily Summary
Self Guided: Douro Valley – UNESCO World Heritage vineyards
Tour: Boat Trip on a Rabelo
Total Cycling Distance: 40 KM
Meals: B
Boat Trip on a Rabelo
In the afternoon enjoy a boat trip on a 'Rabelo', a traditional 'gondola-shaped' boat that in earlier days transported up to 50 barrels of wine at a time, downriver, to Porto. The Port wine town of Pinhao is your next stop, with its exquisite train station, the ceiling covered in azulejos (traditional Portuguese blue ceramic tiles). You spend the night in Pinhao.
DAY 6: PINHAO LOOP CYCLING ALONG THE DOURO RIVER
---
Pinhao Loop – Douro River
The route today takes you along the magnificent and enchanting Douro Valley. The views are nothing less than breathtaking as if the Douro Valley is ensuring that you will never forget its magical beauty!
Wine Tasting at Quinta Do Tedo
Head along the riverside and enjoy a guided visit of an 18th century wine estate, at the confluence of the Douro and Tedo rivers, and a wine tasting at Quinta do Tedo. At the end of today's cycle you will arrive back in Pinhao.
Daily Summary
Self Guided: Pinhao Loop – Douro River
Tour: Wine Tasting at Quinta Do Tedo
Total Cycling Distance: 40.5 KM
Meals: B
DAY 7: TRANSFER BACK TO THE AIRPORT, OR CHOOSE TO SPEND EXTRA TIME IN THE COSMOPOLITAN CITY OF PORTO
---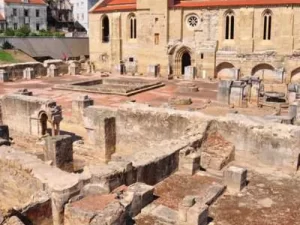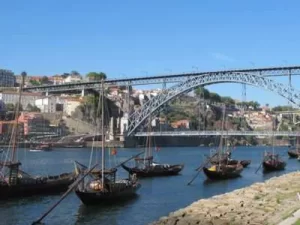 This morning you check out of your hotel and are transferred back to Porto Airport. Or, you can choose to add some nights in this cosmopolitan city. We will quote you on extra nights in Porto at the time of booking.
The one-way, northbound Norwegian coastal voyage ends in Kirkenes. We can arrange for you to stay on in Kirkenes for the night or for airfare to fly to Oslo, depending on your continuing travel plans.
Daily Summary
Transportation: Airport Transfer
Meals: B
TRIP DETAILS
Call for dates and pricing
Disclaimer: We do our utmost to ensure that information posted on our website is correct at the time of publication, however trip details are subject to change without notice by the suppliers and operators involved. We update the information as soon as possible when changes are advised to us, however, we cannot assume responsibility for such changes made by the suppliers and operators.