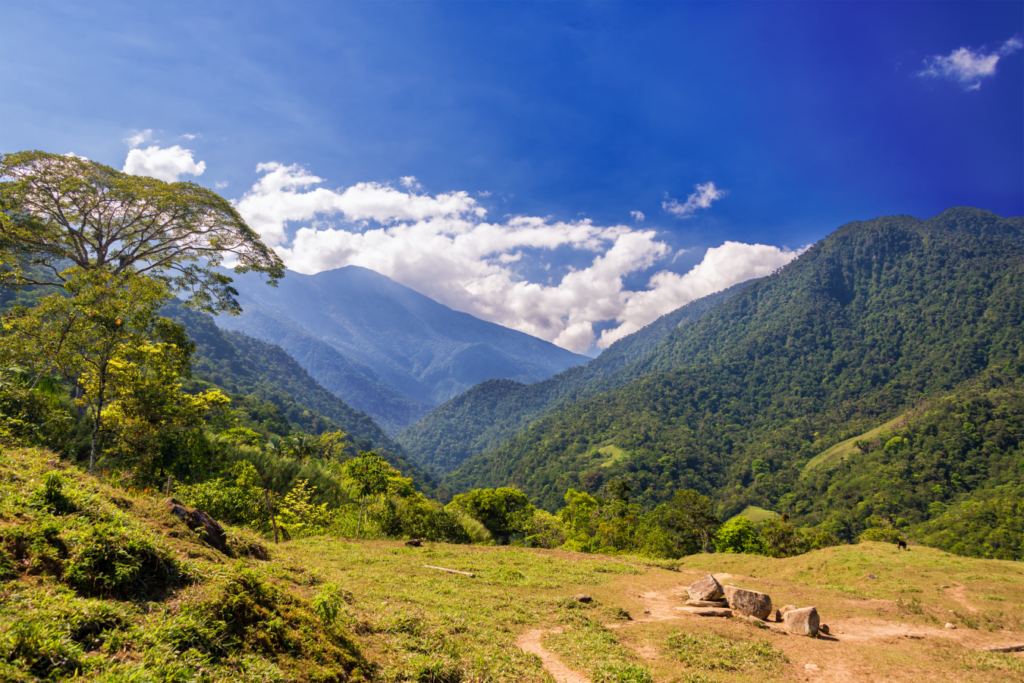 CARIBBEAN COLOMBIA EXPRESS
The nature of Colombia and the Caribbean is like nowhere else on earth. On this tour, you'll get the best of beach relaxation and wilderness exploration. Get back to nature in the jungle town of Minca – it's the great outdoors with a relaxing Caribbean twist.
TRIP HIGHLIGHTS
Hike through lush jungle
Meet the locals and learn about coffee in Minca
Indulge in fresh seafood and Colombian specialties
Explore the colonial city of Cartagena
Take in the beauty of Tayrona National Park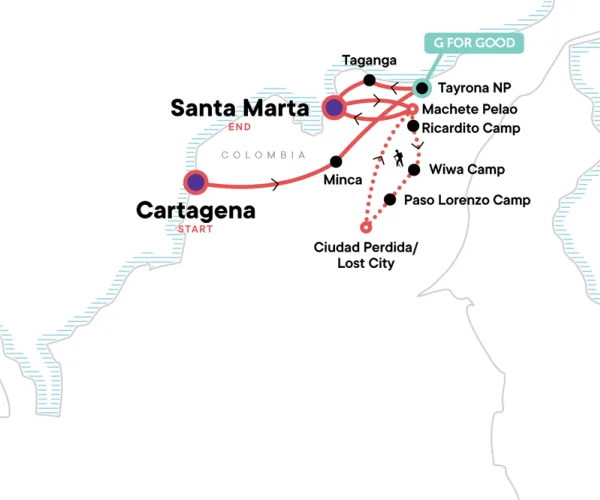 AT A GLANCE
ITINERARY DETAIL
DAY 1: START IN CARTAGENA
---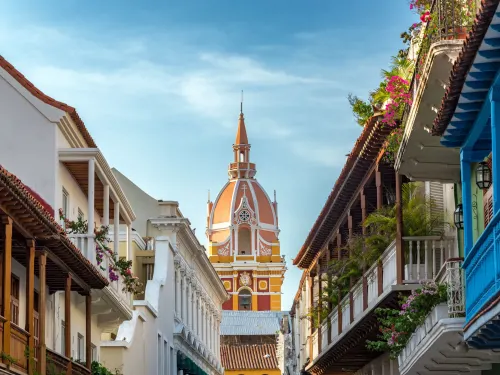 Arrive at any time today. Explore Cartagena on your own or just relax before your adventure begins.
DAY 2: EXPLORE CARTAGENA
---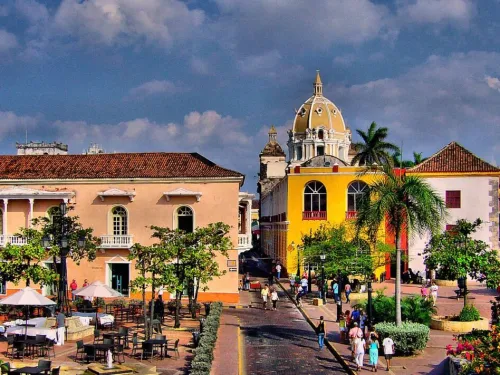 Lamanai Ruins Guided Tour
Enjoy a guided city tour, visiting the colonial walled city and fortress which is also a UNESCO World Heritage Site. Travel between sights by private transport and visit the clock tower, Plaza Bolivar, and the Castillo de San Felipe de Barajas. Take in sweeping views of the city from the hilltop Convento De La Popa and enjoy a walking tour from San Pedro Claver Church to Santo Domingo Church.
Enjoy free time to take in the Caribbean vibe of the city and beach.
Daily Summary
Tour: Guided City Tour of Cartagena
Meals: B
Additional Options For Day 2

Totumo Mud Volcano

Climb up the stairs and descend into the healing mud of the El Totumo Mud Volcano. As your body becomes weightless, lie back and relax in the cool mud. The mud is packed with rejuvenating minerals, so you're bound to come out looking ten years younger. Please bring your own towel, as the hotel will not lend towels for this activity.

Night Exploration on Chiva – 45000COP per person/50000COP per group

Get ready to party and explore the city by Chiva bus. These colourful vehicles are a national symbol and feature open sides making it easy to truly experience vibrant Cartagena as you go. Drink, dance, and enjoy Colombian music on this fun-filled ride.

Palace of Inquisition (Museum) Visit – 30000COP per person

Visit the museum and learn about the Spanish Inquisition in Colombia. Explore this fine example of colonial and Baroque architecture and see artifacts and torture equipment on display.

Gold Museum Visit – 7000COP per person

Head to Plaza Bolivar and pay a visit to this well-curated and informative museum. Admire the intricate, pre-Columbian gold works and pottery of the indigenous Zenú people while learning about their history and traditions—all on display in a charming colonial home.

Naval Museum of the Caribbean Visit – 6000COP per person

Located in the historic walled city, visit this spacious museum housed in two heritage buildings. Explore the various exhibits relating to the naval history of the Caribbean Sea and enjoy the charming patios.

Museum of Modern Art (Museo de Arte Moderno) Visit – 5000COP per person

Housed in two historic buildings, one a former weapons storehouse, is the collection of the Museo de Arte Moderno de Cartagena. Stroll through the unique space and admire Latin American paintings from the 1950s along with contemporary Colombian art.
DAY 3: ENJOY SOME TIME IN MINCA
---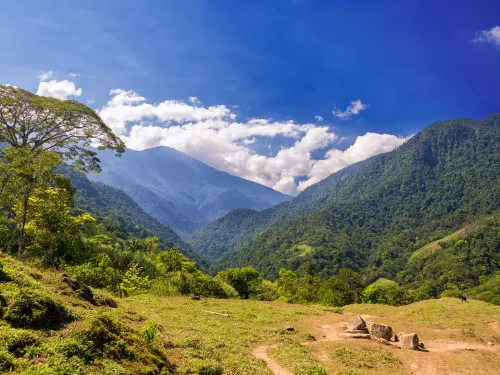 Today you will travel to the small town of Minca. Here you will have time to explore and breathe in the fresh mountain air. Go looking for unique birds, explore the area on foot or hang out at a local café by the river.
DAY 4: NATURAL DIVERSITY OF PARQUE NACIONAL NATURAL TAYRONA
---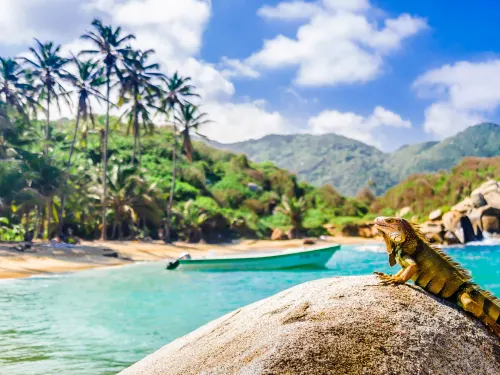 Guided Tayrona National Park Hike
Head into Tayrona National Park for a moderate hike with a local guide. This is a perfect opportunity to experience nature and learn a little more about the rich, natural diversity of northern Colombia. Stay in a lodge close to the park.
Please note that Tayrona National Park is usually closed during the month of February. The indigenous groups in the area believe that mother nature needs a month of rest, and maintenance to the park is done during this time. If your trip falls in February, you will visit Taironaka Park, to learn more about the local Kogi people and their cultural practices.
Daily Summary
Tour: Guided Tayrona National Park Hike
Meals: B, L
DAY 5: VILLAGE VISIT IN PARQUE NACIONAL NATURAL TAYRONA
---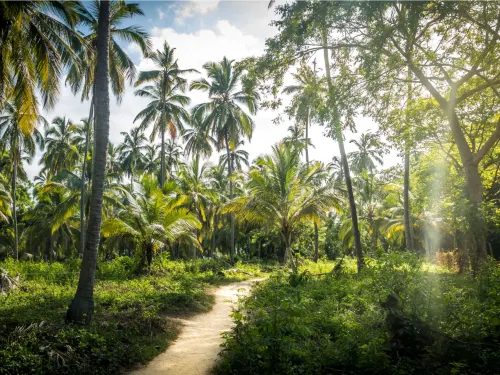 Guided Tayrona National Park Hike
Spend the day with the Gotshezhy indigenous community. Enjoy a lunch prepared by women from the community. Visit the nearby village where youth from the four indigenous tribes in the region come to school to learn about their cultural customs and languages. Upon entry into the village, experience a soul-cleansing ceremony and learn about traditional customs, stories, and handicraft methods from this region. After, jump in the river for a cool dip, visit nearby waterfalls and natural swimming pools, or rest in a hammock and reflect on your accomplishment before returning to Santa Marta.
Daily Summary
Tour: Gotshezhy Indigenous Community Including a Lunch
Meals: B, L
DAY 6: EXPLORE TAGANGA
---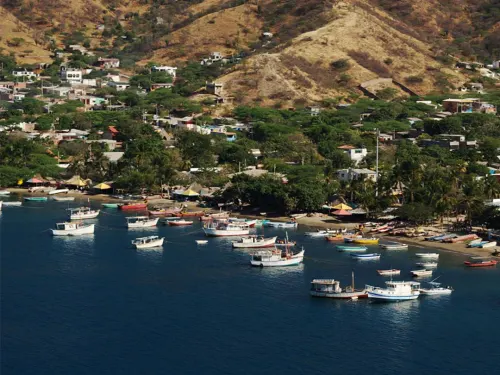 Get Your Bearings in Taganga
In the afternoon, travel from Tayrona to Taganga. Take a CEO-led orientation walk of this traditional fishing village and get acquainted with the main sites.
Soak up the Caribbean feel of this coastal town with some free time. Be sure to indulge in the area's fantastic fresh seafood or hang out in one of the many cafés along the beach
Daily Summary
Tour: Get Your Bearings in Taganga
Meals: B
DAY 7: SNORKEL IN TAGANGA AND ENJOY AN EVENING IN SANTA MARTA
---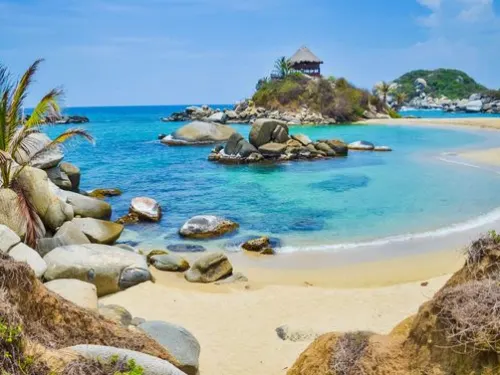 With a free day at leisure, tour Taganga by foot or don a snorkel and mask and explore the water. This evening, travel to Santa Marta and join your group for an optional evening out on the town.
Snorkelling – 80000COP per person
Strap on some fins and a mask and explore the active reefs in Taganga's clear water. Keep an eye out for fascinating brain coral!
Playa Grande
Head to the nearby beach of Playa Grande for a multitude of water sports, to relax on the sand, or hang out in one of the many restaurants.
Daily Summary
Tour: Snorkelling – 80000COP per person
Tour: Playa Grande
Meals: B
DAY 8: DEPARTURE FROM SANTA MARTA
---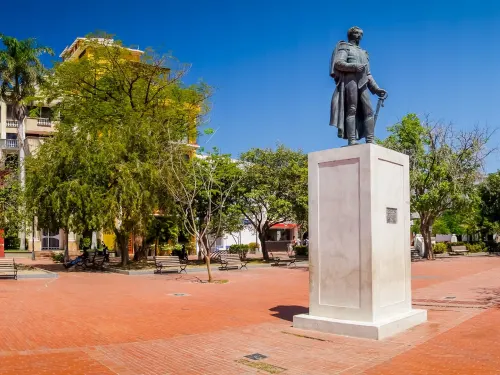 Feel free to depart at any time throughout the day. Or ask us about extending your stay for another day or two.
Gold Museum Santa Marta – Free
Explore the colonial mansion that houses indigenous artifacts from the Tayrona area including an impressive gold collection.
Quinta San Pedro Alejandrino – 21000COP per person
Visit Simon Bolivar's final resting place, La Quinta is the estate where the famous Libertador spent his final days. The former rum plantation now includes a restored house, museum, library, and extensive gardens perfect for exploring.
Daily Summary
Tour: Gold Museum Santa Marta – Free
Tour: Quinta San Pedro Alejandrino – 21000COP per person
Meals: B
TRIP DETAILS
Call for dates and pricing
Disclaimer: We do our utmost to ensure that information posted on our website is correct at the time of publication, however trip details are subject to change without notice by the suppliers and operators involved. We update the information as soon as possible when changes are advised to us, however, we cannot assume responsibility for such changes made by the suppliers and operators.